Things to do in Barcelona | Poble Espanyol
Barcelona, June 2022 - Situated in one of the most well-known areas of Barcelona and very close to the Fuentes de Montjuïc, the Poble Espanyol is architecture, art, handicrafts, fresh air, as well as a unique space to enjoy family activities, concerts and exhibitions.
COMPARTIR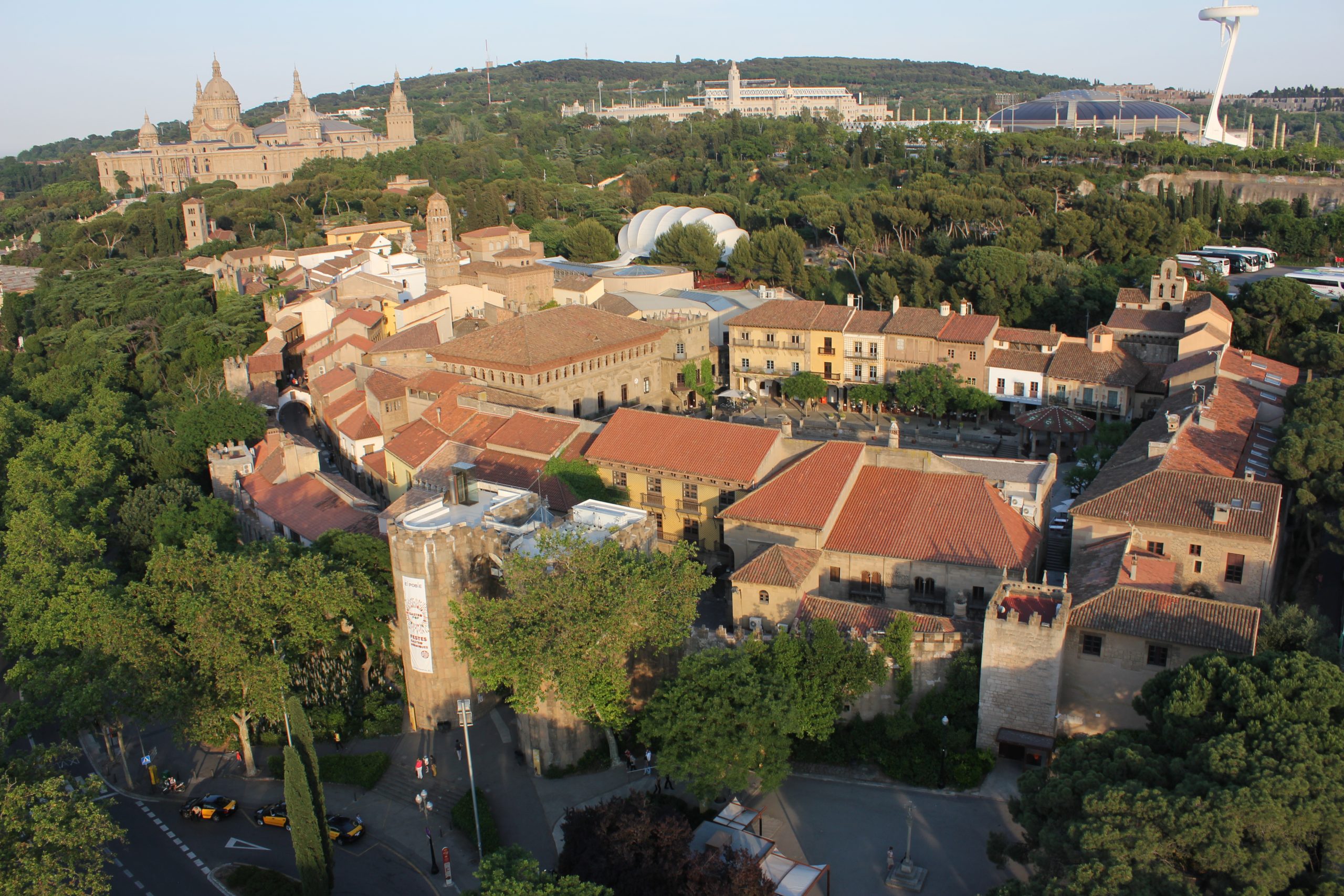 Thing to do in Barcelona
If you come to visit Barcelona, you can't miss the Poble Espanyol, a historic site with almost 100 years of history. If you come to visit Barcelona, you can't miss Poble Espanyol, a historic place with almost 100 years of history. Poble Espanyol is the best choice of things to do in Barcelona.
This great city attraction got started as part of the 1929 Barcelona International Exhibition, with the objective of  representing the essence of Spanish village architecture and culture. With more than 40,000 m2 of open-air space, Poble Espanyol is an enclosure that catalogues the city of Barcelona's architectural heritage, housing 117 buildings on a grand scale. There are squares and streets that reproduce popular Spanish architecture, from the white houses of Andalucia, to a Romanesque style Catalan monastery. There are also audiovisual installations  set up at various points along the way, where you can immerse yourself in popular festivals, landscapes, gastronomy and traditions from different parts of the country.
If you want to know more about things to do in Barcelona, check the following link: https://poble-espanyol.com/en/activities/
Barcelona to visit
Don't know what to visit in Barcelona? The Poble Espanyol is also synonymous with sustainable, quality and local arts and crafts. In 2003 it was declared a an Arts and Crafts Zone by the Catalunya local government, welcoming one of the best concentrations of arts and crafts in Barcelona and the country. Here you can personally see work by more than fifteen professionals from different generations, specialising in glass, leather, ceramics, basket-weaving, carving and other crafts. You can buy unique, one-off and personalised pieces as well as take part in  workshops and special courses to experience handicrafts first hand. 
An indispensable exhibition and museum
For a few months visitors have also been able to learn about the enclosure's origins like never before, thanks to the A Photographic Journey. Construction of the Poble Espanyol exhibition. The display lets you get into the minds of the Poble creators, to discover just how passionate the process was and exactly how they got inspired before making the project a reality (access to the display is included with the enclosure admission).
Inside the Poble Espanyol you can also find the  Fran Daurel Museum, one of the best contemporary art shows in  Barcelona, where you can admire universal works of art such as  Picasso, Dalí, Miró, Tàpies and Chillida. Access to the museum is included with the enclosure admission and is a special opportunity to take a look at Spanish contemporary art through a unique exhibition.
Activities to do in Barcelona
For the last few years, and now more than ever, the Poble offers (apart from the regular content that is open 365 days of the year),  cultural activities and leisure for all ages. What kind of activities to do in Barcelona?, concerts, family activities, shows and temporary exhibitions take on a special dimension and come alive like in no other place.
This summer the offerings are centred mainly around music. From Wednesday to Sunday, from the end of June to the end of August, live blues, opera, rumba and rock tribute acts alternate, most of them in a singular space set up specially for the occasion. Good music, fresh air, a great atmosphere and a historic and safe environment. What more could you ask for?
PRACTICAL INFORMATION
Opening hours:
Monday 10am to 8pm 
Tuesdays to Sundays from 10am to 12am
Prices:
Adult: €14 (same day online or ticket office ) / €11.20 (booking online)

Kids: €10 (same day online or ticket office) / €9 (booking online)

Under four years of age: free admission
** Free admission for people with wheelchairs.
Enclosure admission does not include access to concerts or special activities.
For more information, see our website www.poble-espanyol.com