COMPARTIR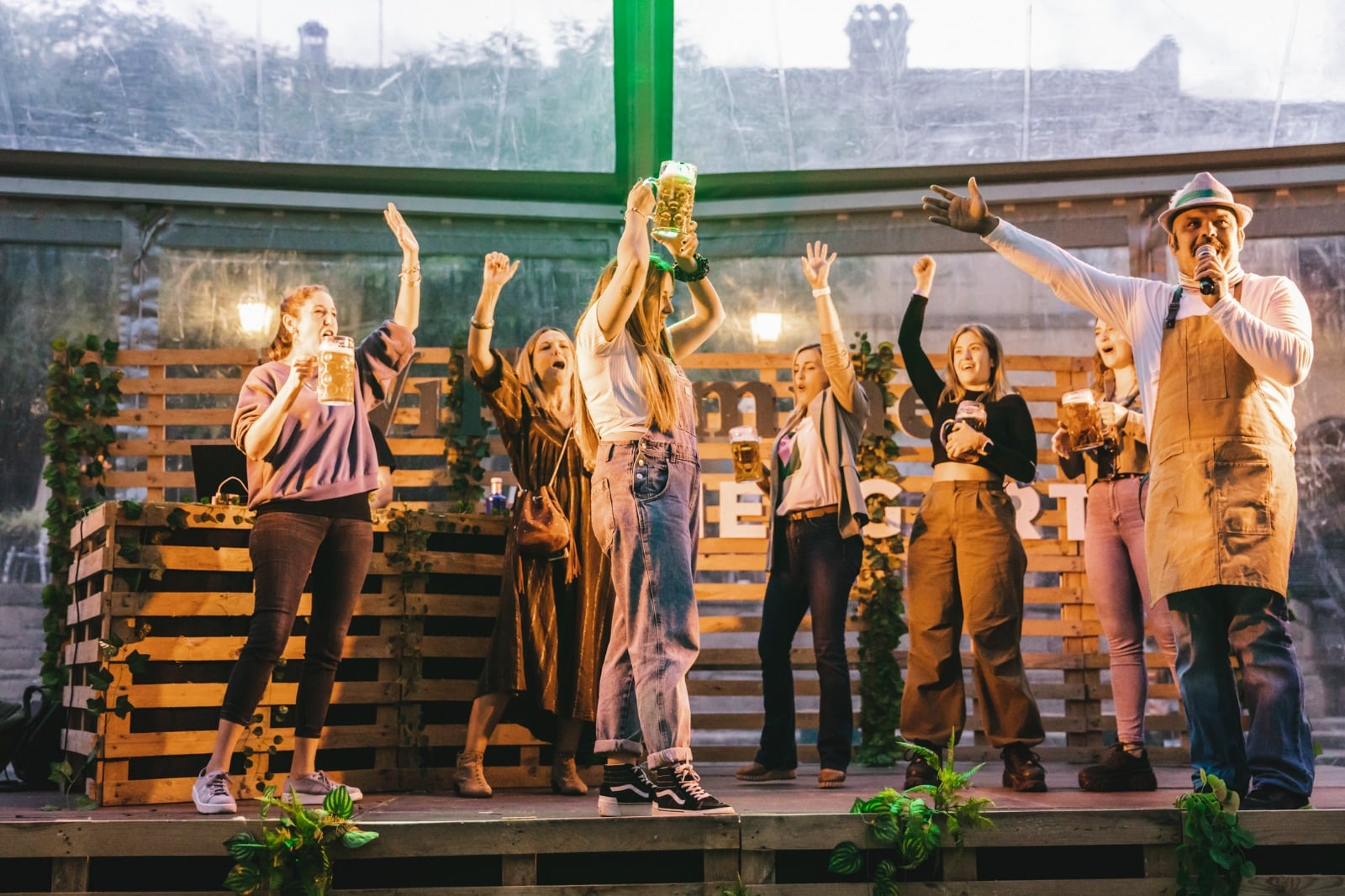 Activities this spring at Poble Espanyol
This spring Poble Espanyol offers activities for all ages: an exhibition of the most popular superheroes and superheroines of the moment, the most authentic beer festival in Barcelona and a new gastronomic festival with sustainable and local products.
Superheroes and superheroines exhibition: the adventure!
You will live an unforgettable experience for families, fans and collectors of the films and comics of the universe of the most admired superheroes and superheroines in history and of the moment. La Carpa del Poble Espanyol is hosting a unique exhibition with more than 100 exclusive pieces about characters and iconic moments from more than 20 films that have become classics among children and adults. This is your chance to recreate yourself in the most exciting films of cinema in an impressive exhibition in Barcelona made up of statues, figures, replicas, dioramas and even Photocalls and Fan Art. In addition, a giant interactive screen will encourage visitors to paint different superheroes and superheroines and then see them projected in a large collective virtual city created by Atlantis Virtual Reality. Access to the exhibition is included with the Poble Espanyol ticket, and to access it it is essential to book an appointment (limited seating). *FAN EXHIBITION not linked to Marvel/Disney.
Gastrofest KM0
The Parc Agrari de el Baix Llobregat comes to Barcelona with Gastrofest KM0, a Festival dedicated to quality gastronomy that focuses on local produce from the Baix Llobregat. More than 10 selected restaurants will offer you the best KM0 dish made with local products from Baix Llobregat such as: Gavà asparagus, the Prat chicken variety "Pota Blava", calçots (spring onions) or Prat artichokes. The restaurants will compete in front of a professional jury to be the winners of the prize for: the best dish made with fresh products from Baix Llobregat. And that's not all! In a Festival like this you can't miss one of the most deeply-rooted gastronomic traditions in Catalonia: the calçotada! Enjoy with your family or friends of a good calçotada with local products and with the best atmosphere!
WORKSHOPS, SHOWCOOKING, COMPETITIONS, LIVE MUSIC AND MUCH MORE!
The gastronomic experience will be complemented with showcookings, San Miguel beer tasting and pairing competitions, children's craft workshops and good music. The Festival will have two main areas: The Plaza Mayor, where the gastronomic offer of the 10 participating restaurants will be located, and the Pícnic area, with the calçotada and the barbecues.
Biergarten
This Easter, beer, German gastronomy, music… and much more! The 11th edition of the best and most fun beer event in Barcelona is coming… San Miguel Biergarten returns to Poble Espanyol! In addition, admission is free for residents of Catalonia. The San Miguel Biergarten continues its commitment to spread the culture that surrounds beer. Beer and gastronomy will be combined with several workshops to learn how to pour beer and to discover the nuances of taste between different varieties of beer and pairings will be proposed (some of these activities require prior registration). In this edition, admission to the Biergarten is free for residents of Catalonia, with online booking, and capacity will be filled on a first-come, first-served basis. The advance purchase of the menu ensures access to the party and a reserved table during the 2 hours chosen
ACTIVITIES FOR ALL
Biergarten is designed for beer lovers to have a good time, so you will find activities and competitions, to have the best possible time in good company. – Beer pairings – Beer tasting – Expert beer puller – Frankfurter eating contest – Various competitions: Yodeling contest, Limbo, mug lifting contest… Stay tuned, the prizes are very succulent!
A GREAT SELECTION OF BEERS
There are beers for all tastes! On tap or in bottles, you'll find more than 20 varieties in total: MAGNA CASK – RADLER CASK – SELECTA XV CASK – NOMADA PETRICOR CASK – FRANZISKANNER – LEFFE BLONDE – LEFFE ROUGE – FOUNDERS PORTERS – ALL DAY IPA – HOEGAARDEN WIT – STELLA ARTOIS – WARSTEINER – ALHAMBRA RESERVA 1925 – ALHAMBRA ROJA – FOUNDERS CENTENNIAL – FOUNDERS DIRTY BASTARD – CORONA – CORONA 0, 0 – CUBANISTO – SAN MIGUEL 0,0 TOSTADA – NOMADA NATUREPILLS – LA SALVE LUCIA THE BEST MUSIC
Biergarten is beer, is German gastronomy… and it's also a party! and it's also a party! Our DJs will be spinning the beats, and you'll also enjoy live music concerts!