New jewellery craft workshop in Poble Espanyol
COMPARTIR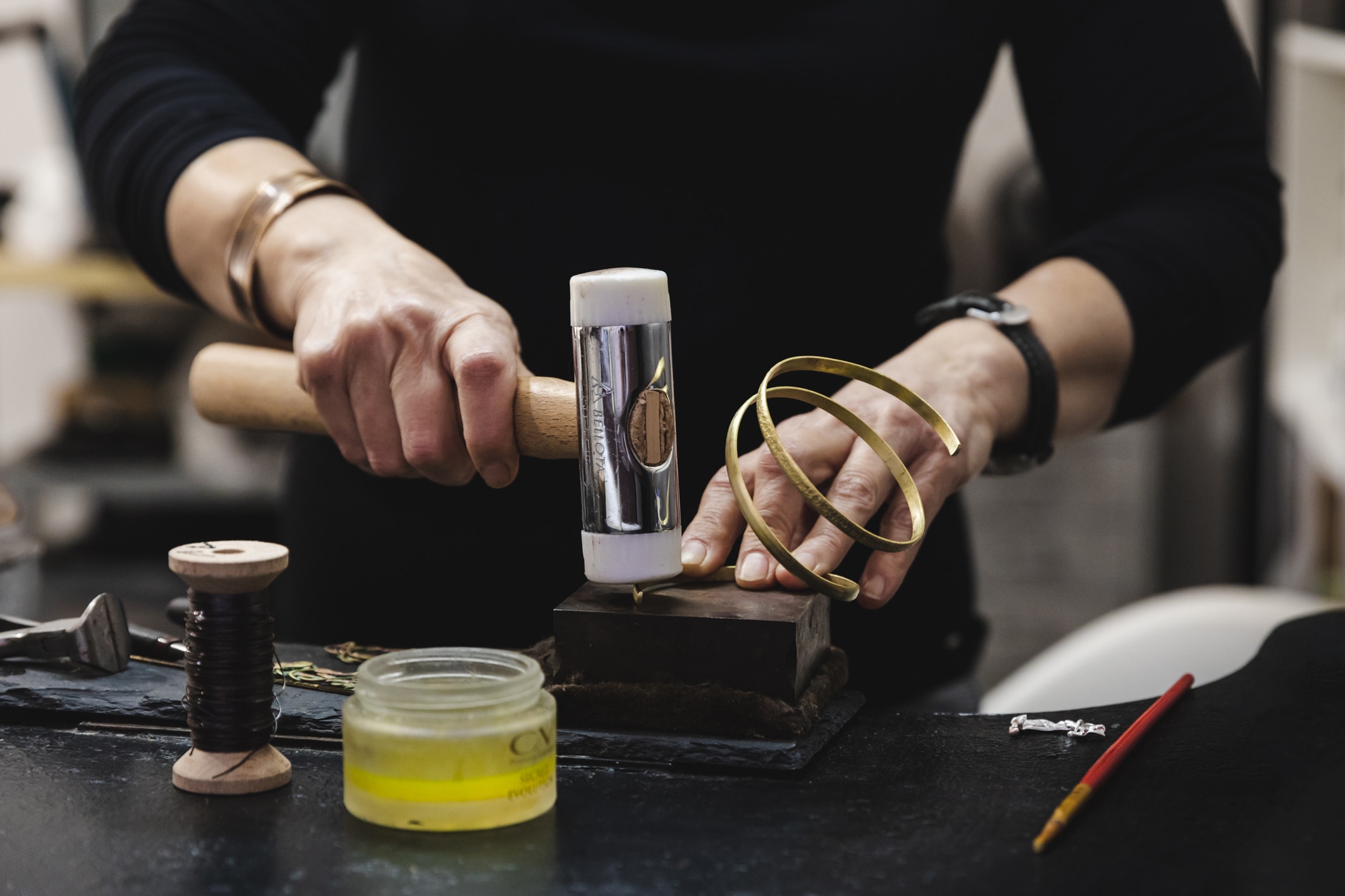 Create and personalise earrings
El Poble Espanyol presents a new personalised craft workshop: Create and personalise one of the earrings from the Trazos collection by Amparo Valencia!
Accompanied by the artisan Amparo Valencia, you will learn how to make beautiful silver earrings and personalise them to your liking, creating your own shape and design to engrave.
You will also learn different techniques such as soldering, sawing, polishing and pressure engraving from Amparo.
The course takes place on Saturdays and Sundays from 10 a.m. to 2 p.m. and lasts 4 hours. It is available in 3 languages: Catalan, Spanish and English. The groups are small and the minimum recommended age for the course is 16 years old.
Amparo has more than 30 years of experience working in the craft of handmade jewellery. Her speciality is the creation of unique pieces with natural stones and the transformation of old jewellery into new designs. The specialities of the Amparo Valencia jewellery workshop are the transformation of old jewellery into new designs, the creation of unique pieces with natural stones, small series with some variants that make them unique and original paintings in small and large format.
The techniques used for the creation of their products are handmade jewellery, the technique of recasting, patinas, textures, painting, fire enamel and cold enamel.
The materials used are copper, bronze, silver, natural and synthetic stones, enamels and wood.
Introductory courses in handicrafts
There are currently 3 introductory craft courses for adults: Suminagashi art, glass mosaic and ceramics.
Every Friday and Saturday you can learn various techniques to work with ceramics and create a bowl suitable for food, discover the millenary Japanese technique Suminagashi to achieve unique designs or become an expert in brittle, where you will create a typical Gaudí mosaic.
Poble Espanyol, Point of interest for craftsmen and women
Poble Espanyol is a unique venue for artisan representation and an ideal place to enjoy the experience of craftsmanship. It is, without a doubt, a space that enjoys one of the best concentrations of artisans in Barcelona and the country. That is why
the Generalitat de Catalunya has distinguished it as a Zone of Craft Interest.
In addition, from Monday to Sunday, the artisans of the Poble give specialised workshops in which participants learn how to apply various craft techniques from the professionals who work in the area on a daily basis.